Recently released financial numbers for the year 2022 from retailers (most of whose fiscal years ended in January) shows that US sales were up 9.4%, not adjusting for inflation. However, even including inflation (which increased 6.4% in the past 12 months), retail sales were still significantly increased over 2021. Most categories showed positive increases over the 2021 fiscal year (February 2022 through January 2023).
As a recent Forbes article points out, January sales were increased 3% over December, and 6.4% over January 2022. "The January retail sales report underscores continuing consumer resilience. As inflation slows, the labor market remains strong, and consumers indicate a continued willingness to spend, particularly on dining and other experiences. We expect sales growth to continue throughout the year," stated Tom McGee, CEO of ICSC.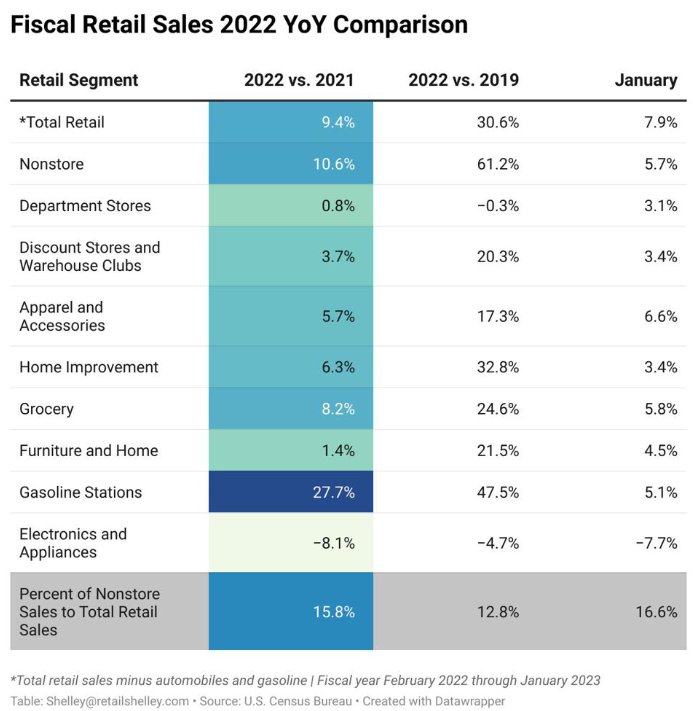 By category review
Gasoline stations were up 27.7% and grocery up 8.2% for the fiscal year. Both of these categories were heavily influenced by higher prices over the past 12 months. "High prices at the grocery store and gas tank continue to be a concern for consumers, while consistently high-interest rates have caused a slowdown in the housing market impacting spending against durable goods," said Jonathan Silver, CEO of Affinity Solutions.
Non-store sales, including e-commerce, mobile purchasing, and catalogs, were up 10.6%, and represented 15.8% of all retail sales for the year. Total non-store sales in the fiscal year 2022 were 61% higher than in the pre-pandemic year 2019.
Forbes.com, Shelley E. Kohan