"When it comes to a restaurant for lease, the best strategy is to be the second operator in that space." The sage advice above comes from a veteran commercial real estate investor out of Conshohocken, Pennsylvania—one of many experienced restaurateurs who avoids building from scratch whenever choosing sites for a new restaurant for lease. The reason for taking second-generation restaurant space (moving into any location previously occupied by a restaurant that has since closed) is simple enough: You can save an enormous amount of money and then put it to good use in other areas of your business.
Here are six considerations for restaurateurs who are interested in taking advantage of second-generation space in their search to find a restaurant for lease:
CAN YOU SAVE ON EQUIPMENT COSTS, MUNICIPAL FEES, AND THE LIQUOR LICENSE?
"Historically, the failure rate for restaurants is something like 60 percent in the first year," noted David Goodman, a Principal at Equity Retail Brokers. "The basic logic of taking second-generation restaurant space is to let that prior restaurateur spend the money on buildout. Your startup costs are dramatically lower, which bolsters your odds of being a long-term success."
Buildout for a brand-new restaurant requires buying and installing equipment such as a three-compartment sink, a commercial dishwasher, a kitchen hood and ventilation system, indoor and outdoor grease traps, and more.
In addition to avoiding the hefty fees associated with winning municipal approvals for a new restaurant, you also stand a chance of finding second-generation restaurant space for which a liquor license has already been secured, said Rob Samtmann, a Principal at Equity Retail Brokers. "That is no small consideration," he said. "Around the country, liquor licenses for new restaurants can routinely run well into the six figures."
This is particularly true in states like New Jersey where control boards and local municipalities tend to exercise tight control over the process, Goodman noted. "In Cherry Hill, for example, we've heard of them going for more than $1 million."
Indeed, recent asking prices for "type 33" licenses in the Garden State included $1.2 million for a license in Bridgewater, $1.1 million for a license in Mercer, and $1.4 million for a particularly rare type 33 license in Bergen.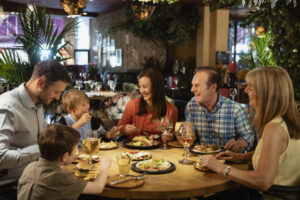 CAN YOU RE-USE EXISTING LIGHT FIXTURES, TABLES, CHAIRS, AND DÉCOR?
While corporate chains have highly standardized store interiors, a local restaurateur may be able to find a second-generation restaurant space with tables, chairs, flooring, and other elements of the interior that can be reused.
"It's rare that you'll reuse everything," Samtmann said, "but you do want to look at how much money you can save by retaining some of that design work and store interior. The key is, the place still needs to feel like an exciting, new experience to anyone who walks through the door."
ARE THERE ANY REAL ESTATE WARNING SIGNS?
When restaurants fail, how do you know if the problem was the shopping center and location rather than the restaurant concept or operator?
Investigating that question is part of the role of an experienced tenant representative broker. "If it's the fourth or fifth restaurant to open and close in that space in as many years, that's a clue to a real estate issue, but there are no hard and fast rules," Samtmann said. "As we've discussed in a prior blog post, a good broker will look carefully at the location, visibility, co-tenancy, and access to evaluate the site. Your broker may also speak with industry colleagues about that operator's situation. You may learn that the prior restaurateur was woefully undercapitalized or was a great chef but not necessarily a strong businessperson."
Goodman recalls a recent case in which multiple fast-food restaurant locations came on the market in New Jersey. "The issue wasn't the real estate," the broker said. "The franchisor had expelled this operator from its system."
WILL YOU NEED TO UPGRADE THE SEWER CONNECTION OR HVAC?
Sewer capacity isn't the first thing you think of when seeking to find a restaurant for lease, but Goodman and Samtmann say it is a major concern among established restaurateurs, as well as landlords and municipalities. "If you're evaluating a second-generation space, be sure to look into whether you'll be required to upgrade the sewer connection, because it's a considerable expense," Samtmann explained.
Likewise, your dramatic, open kitchen with multiple pizza ovens and gas ranges could heat-up the space far more than the layout and equipment of the prior restaurant. "If you have to add a new HVAC with a higher tonnage rating, that's another potential expense you want to know about in advance," Goodman advised.
WHAT'S THE CONDITION OF THE RESTROOMS?
Older restaurants may have installed restrooms 15 or 20 years ago that are out of compliance with requirements in the Americans with Disabilities Act. "That could mean there are no grab bars, the toilets are the wrong height, or a person in a wheelchair cannot get in and out easily," Samtmann said. "In the case of major compliance problems, you will need to foot the expense of completely redoing the restrooms."
If those restrooms happen to be dingy in appearance, Samtmann adds, the renovation will be money well spent. "Restrooms are important to the perception of cleanliness at any restaurant," he said. "If consumers notice a lack of cleanliness at the front door or in the restrooms, they start to imagine what's going on in those areas they can't see."
As a side note, when landlords are eager to bring a concept into a shopping center (the stronger your credit and finances are, the more likely this will be), they may offer to take on some portion of the work and expense associated with upgrading the space. That's fine as far as it goes; however, just remember that the project, while it may save you some headaches, will certainly translate into higher rent.
DO YOU NEED A DRIVE-THROUGH WINDOW OR CURBSIDE PICKUP?
Especially in the era of Covid-19, convenience is critically important to restaurant patrons. "Think carefully about how people will be buying food from your business," Goodman said. "Let's say you've found a second-generation pad site in the parking lot, but it doesn't have a drive-through. Have your broker investigate whether other tenants' co-tenancy lease provisions or perhaps municipal restrictions, could prevent you from adding that amenity. It's important to ask similar questions about dedicated parking spaces or a pickup window."
Leasing second-generation restaurant space offers powerful advantages, but that doesn't mean building a brand-new restaurant is never a good idea, Goodman said.
"We work on new restaurant deals all the time with experienced operators who are running multiple, highly successful restaurants," he explains. "They've done the math on buildout costs and know exactly what they'll be making in any given market. For them, building new restaurants works perfectly well."
But even many experienced operators like to investigate second-generation space as part of their site-selection process. "They know the bones are in place, even if they largely demolish the prior restaurant interior," Goodman said. "The bottom line is that second-generation space should most likely be on your menu of considerations. Just work with your broker to ask the right questions."
If you have questions about finding a second-generation restaurant for lease, contact us today!