Opportunities in tenant representation and landlord leasing are constantly in flux—and the arrival of experience-oriented operators like Wondershare, Cinergy, The Void and Round 1 is a case in point.
Not so long ago, sellers of hard and soft goods were the prime focus of retail tenant reps and landlord leasing teams alike. However, disruptive forces such as online shopping and the shifting buying habits of Millennials and Gen Z have sparked an explosion of creativity: Shopping center landlords and retail tenant reps continue to reimagine and re-tenant properties with experiential and entertainment-based concepts at the forefront.
A striking example is the 3 million-sq.-ft. American Dream mall in East Rutherford, New Jersey. The $5 billion project, which took more than 20 years to develop, opened this past October with a whopping 55 percent of its tenants falling into the entertainment category. It's everything from black-light mini-golf, to a Nickelodeon-themed amusement park, to IT'SUGAR, a kaleidoscopic storefront filled with whimsical, oversized candy and light-hearted novelty gifts.
But of course, Triple Five's American Dream mega-mall is an outlier. Elsewhere around New Jersey, Delaware and Pennsylvania, landlord leasing teams and retail tenant representatives are working together to fill large-format vacancies with a wide range of entertainment and other experiential concepts. These users ramp up foot traffic and dwell time in one fell swoop.
Philadelphia landlords lease to experiential retail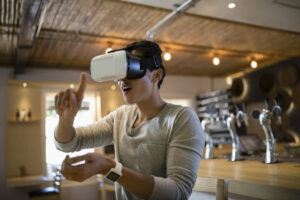 In Center City Philadelphia, PREIT is transforming the 1 million-sq.-ft. Gallery at Market East mall into a shopping, dining and entertainment hub called Fashion District Philadelphia. Experiential tenants at the property, which uses the telling tagline "food, film, fashion and fun," include:
• Wondershare. Unthinkable for a mall just a decade or so ago, this 24,000-sq.-ft. tenant immerses visitors in what it describes as "cutting-edge works of art." Imagine trippy halls of mirrors filled with strings of colored lightbulbs, or "dinner parties" where visitors wear virtual-reality headsets as they sit at the table.
• Round 1. This multi-entertainment facility offers bowling, billiards, karaoke and more than 250 arcade games under one roof. The Japanese-based operator has two other Philadelphia locations (Neshaminy Mall in Bensalem and Park City Center in Lancaster) and two locations in New York (Galleria at Crystal Run in Middletown and Broadway Commons in Hicksville).
• City Winery. Tailormade for "date night," this operator combines a concert venue with an award-winning urban winery and a high-end restaurant that whips up "wine-inspired, locally sourced fare." As befits its name, City Winery operates in major urban centers such as New York City, Atlanta, Nashville, Boston and Washington, D.C., to name a few.
Tenant representatives bring new experiential concepts
Store closures by large-format retailers like Macy's can seem like terrible news for retail real estate. However, it's important to remember that, in many cases, anchors like these were on long-term, low-rent leases and had ceased to be maximum traffic-drivers long ago.
We've seen PREIT, for one, replace Macy's locations at its malls in Plymouth Meeting, Pennsylvania, and Moorestown, New Jersey, with a mix of more experientially oriented operators. These include Miller's Ale House, Edge Fitness and Five Below and HomeSense. (Why are the latter two "experiential"? Because of TJX Cos.' highly successful "treasure hunt" approach to merchandising, in which customers never quite know what novelties and bargains they'll discover.)
Leasing opportunities are drawing experiential concepts from around the country to our region. Take Cinergy, represented by Equity Retail Brokers in certain geographic areas. With multiple locations around Texas and the nation, it was founded by successful entrepreneurs Jeff and Jamie Benson. They're Big Four CPAs with extensive experience in developing modern cinema entertainment centers. (The Bensons founded Movie Tavern in 2001 and sold their stake in the business in 2008 prior to founding Cinergy.)
Cinergy is looking to build family entertainment centers of about 72,000 square feet. They're designed to be the "ultimate social playground," with dine-in cinemas; immersive escape rooms; boutique bowling; axe-throwing; and a large arcade with a rope course, zipline and dozens of games, including state-of-the-art virtual reality games. Given the importance of dining today, these locations offer chef-inspired American classics throughout the premises and, of course, serve craft beer and cocktails.
Cinergy aims to open two locations per year and could soon have a total of seven nationwide, with 71 screens, 82 bowling lanes and annual revenues in excess of $100 million. IAAPA, the global association for the attractions industry, gave one of Cinergy's locations its Brass Ring Award for the world's top family entertainment center.
Cinergy is open to locating in regional shopping centers, lifestyle centers, malls and standalone buildings. That means it could be a good fit for landlord leasing strategies focused on backfilling large-format spaces.
'Gamer culture' in experiential retail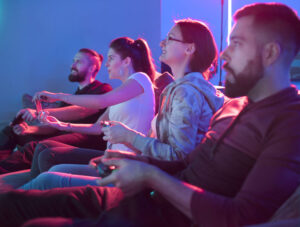 Traditionally, it wouldn't have made much sense to connect videogames with landlord leasing and tenant representation. However, gamer culture is coming to the mall in a big way, thanks in no small measure to the popularity of videogame titles like Fortnite, Overwatch and League of Legends. Indeed, "esports," or competitive electronic gaming, is often a big part of the new crop of tenants, such as GameWorks.
Another example is The Void, which last year partnered with mall owner Unibail Rodamco Westfield (URW) to open more than 25 virtual reality centers at American and European properties. The list includes Westfield World Trade Center in New York; Westfield San Francisco Centre; Westfield Santa Anita in Los Angeles; and Westfield UTC in San Diego.
With experiences created by ILMxLAB, Lucasfilm and Walt Disney Animation, The Void already operates at Mall of America; Tysons Corner Center in Fairfax County, Virginia; and The Battery mixed-use project in suburban Atlanta. As noted in ICSC's SCT magazine, guests pay about $30 to have adventures based on Star Wars, Ghostbusters or Wreck-It Ralph. They wear VR headsets, backpack computers and 'haptic vests' that provide sensory feedback.
We all know how the younger generations are obsessed with their screens. (Come to think of it, aren't we all?) At Equity Retail Brokers, we're excited about the potential for tenants like these to introduce Gen Z and Gen Y to brick-and-mortar environments. The focus on experience-oriented tenants is a solid approach that stands to yield dividends for years to come.